BVE (Broadcast Video Expo) 2016. Britain's biggest video production industry event.
What is BVE?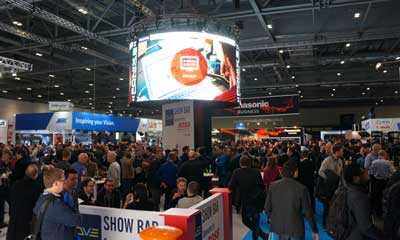 I've been attending BVE for 15 years. It's my annual three-day opportunity to geek out on technology, network and get a feel for where the video production industry is going. I find it to be an incredible resource of information, education and a hands-on tryout of the latest technology. Each year it has appealed to what ever current areas of interest I am going through. Cinematography, lighting, sound, editing, film making, production, funding. Likewise, each year has a focus on what ever technology seems to be emerging. Hdv, dslr, big chip camcorders, 3-D, 4K, drones. This year had a new dedicated AV theatre, seminars on virtual reality and an after hours comedy night. My favourite addition to BVE this year was 'the screen'. A large cinema style theatre hosting key notes from all ends of the industry. I watched an enjoyable interview with documentary/fiction crossover director Kevin MacDonald and an impressive group VR experience with 'hack the planet'.
4K Video Cameras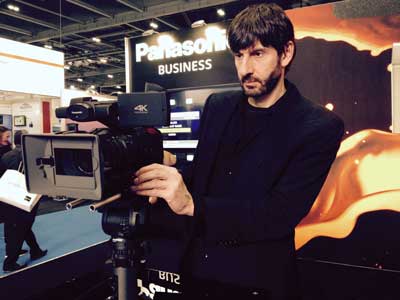 4K started creeping into BVE a few years ago though this year it was fairly ubiquitous. All the main manufacturers have released a range of 4K video cameras at each end of the spectrum. My interest for corporate video production is in the £2000-£5000 range. Sony, Panasonic, canon and JVC all have this area well covered. Some have 4K recording on board and some require an external recorder. Atomos again had an impressively large stand displaying the latest in their external recorders. Things have progressed a long way since my trusty old Ninja 2 recorder. I'm in the market for a 4K camera and will be doing a roundup of the different 4K offerings in another post.
Video Production Software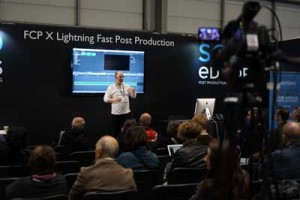 Personally, my main software interest is in video editing and basic motion graphics. For high end animation I'd use a specialist. I dropped in at the Adobe theatre a couple of times to see what was going on within the creative cloud eco-structure. The post production theatre had some interesting seminars in workflow, emerging technology and case studies. Soho editors had a theatre this year dedicated purely to final cut pro X. It was encouraging to see FCP X gaining momentum as it has become my favourite editing platform. They did a seminar on editing 360 VR in FCP X which unfortunately I missed though I hope they post on YouTube at some point. I find Soho Editors a good resource in finding out what's new in editing technology.
Producers Theatre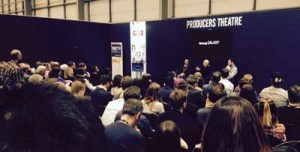 This long-standing theatre at BVE is always a goldmine of interesting  content for me. This year I attended a useful seminar on branded content. Jeff hurlow, head of brand solutions at Vimeo talked about how Vimeo are connecting filmmakers with brands and showed some case studies of successful campaigns. I'm embarking on a self distribution strategy for a documentary I've just made (Inside the Dance) so was intrigued to see a seminar  on this. Patrick Hurley from dogwoof among others were discussing the use of streaming platforms and film festivals to distribute and find the right audience. The seminar on virtual reality for me was the most interesting. Some of the early adopters of this technology were discussing how brands and companies are dipping their toes into the water with great success. The question is whether this is just a passing fad or here to stay.
Virtual reality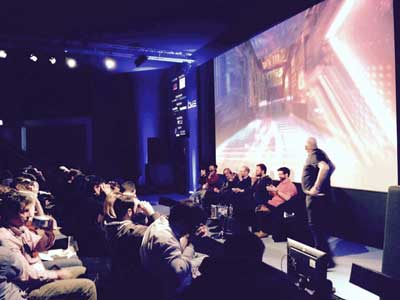 The discussions and seminars were largely about the opportunities this new technology offers to corporates and brands both in branded content and training. Training and education seems to me to offer the greatest opportunities. The main difference with 2-D video seems to be the potential of interactivity in VR. The studies have been revealing that viewers retain a lot more information and emotional impact compared to conventional video. How this virtual reality experience with headsets might fit into our social world was also questioned.  There was some speculation on how we might incorporate these experiences into our cinema tradition. It was also suggested that the younger generation seem to have much less self-consciousness around wearing headsets which might be an inhibiting factor for older people. The final session in the BVE screen was a group VR experience courtesy of 'hack the planet'. We were all given Google cardboard style headsets and treated to a five minute journey through a high-tech world of circuit boards and geometrical shapes accompanied by music from film composer Simon Boswell. Finally a holographic image of Timothy Leary's  face and the chemical formula for LSD came floating past. It gave a good indication at how this technology could instigate social movements and maybe even consciousness change. I enjoyed this a lot. I think this virtual reality experience will find a home in our world and can see lots of ways it can be offered by video production companies for marketing, training and communication. At Promo Video we are thinking about moving into this market next year.
Overall, I found BVE this year very inspiring and has given me lots of food for thought and possible ways to grow my business.
If you like this please link to us and share on social media